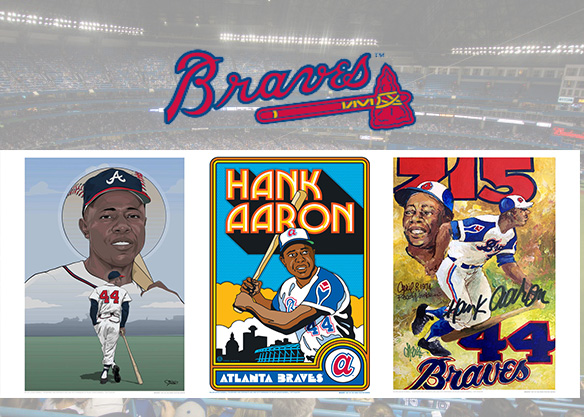 Hank Aaron Art Poster Series / Artwork source: MLB/Atlanta Braves
The Atlanta Braves announced Thursday the 2021 Art in the Park poster series, which began in 2019 and celebrates the talents of diverse designers and artists.
The 2021 series will feature six limited edition designs to honor Hank Aaron. All proceeds from the sale of the posters will benefit the Henry Louis Aaron Fund to further Aaron's life-long passion to increase diversity in baseball, on and off the field.
The featured artists for the 2021 series include:
Wayland Moore is an American artist born in 1935. He is a native of Atlanta, GA and a graduate of the Ringling School of Art and Design in Sarasota, FL. He has received international acclaim for his artwork that has captured the excitement of events such as the Winter and Summer Olympics, America's Cup, U.S. Open, the Masters and countless other sporting events. Wayland was the creative director for the Atlanta Braves during the 70's and designed the iconic 1974 Braves uniform that Hank Aaron wore when he broke Babe Ruth's career home run record.
Robert Generette III is an award-winning illustrator, former art educator and self-proclaimed "vector art monster" hailing from the Washington, DC Metropolitan Area. Under the pseudonym Rob Zilla III, he uses an iPad Pro with Apple Pencil to create compelling sports illustrations and portraitures for clients ranging from Nike, NBA, MLS, MLB, ESPN, Cycle, XBOX and Adobe. Rob attributes his success to traditional art experiences, layer management and his willingness to try new things.
Todd Radom is an independent graphic designer specializing in branding for professional sports franchises and events. Todd's work includes the official logos for…