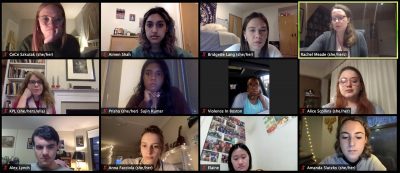 Boston University College Democrats held its annual Spring Panel Thursday night with local activists, who discussed the evolution of protests in the United States and how they define activism.
The featured panelists included faculty members Rachel Meade and Karen Pita Loor, Boston activist Monica Cannon-Grant as well as student activist Prisha Sujin Kumar, a co-founder of the @campus.survivors Instagram page and a junior in the Sargent College of Health and Rehabilitation Sciences.
The panelists answered questions about their relationship with activism and what students can do to promote activist causes in ways outside of in-person protests.
College of Arts and Sciences freshman Alice Scollins, campus coordinator for BUCD, said in an interview the aim of the panel was to examine how activism had changed with time.
"We just wanted to really focus on protests, kind of comparing them over time," she said, "because right now we've seen a spike in protests, especially over the summer with [Black Lives Matter] and continuing on during the past few months."
Cannon-Grant is the founder and CEO of Violence in Boston — a local organization that aims to highlight disparities in violence around communities of color. She spoke about her experiences in activism and said it "wasn't a choice" to engage in social activism.
"I've encountered police my whole life. I've had friends die as early as middle school. I've been attending funerals since I was in the eighth grade," Cannon-Grant said. "I came to this work because I stood next to my son as someone tried to kill him."
Cannon-Grant cited the amount of work and planning that goes into organizing a protest, which is different for Black activists.
"We have to organize…