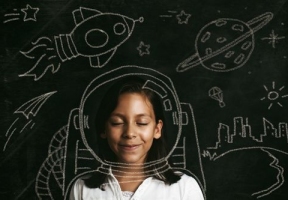 The Illinois State Board of Education (ISBE) has awarded eight Illinois school districts a total of $1.1 million to increase access to science, technology, engineering, art, and math (STEAM) programming for girls and low-income students. ISBE made the announcement during Computer Science Education Week, as part of its efforts to widen the pipeline into high-paying, in-demand STEAM careers. Funded by a special scratch-off ticket from the Illinois Lottery, the grants support the integration of hands-on STEAM programming into the school curriculum and professional learning for educators to strengthen their STEAM teaching practices. The grants also support career-connected experiences that build students' knowledge of the skills required to excel in STEAM careers. Public Act 101-0561 created the program. National research shows that students who attend the highest-poverty schools are least likely to have access to STEAM resources, experiences, and classes. ISBE's STEAM grant helps to close that gap by targeting resources to underfunded school districts. Seven of the districts awarded funds are Tier 1 and one is Tier 2. ISBE awarded the eight districts a total of $1,106,054.48. A few of the schools include:
Berwyn North School District 98 (Tier 1) – $153,982.99   
Berwyn North School District 98 plans to expand existing STEAM programming, open two new STEAM labs, host STEAM summer camps, and provide professional development for staff through the Northern Illinois University STEAM Center.  
Chicago Public Schools District 299 (Tier 1) – $244,653.89
Chicago Public Schools District 299 plans to expand its Early College STEAM School, recruit more girls into STEAM programs via lunch-and-learn events and career panels, and host a Women's History Month STEAM Conference. 
Elmwood Park CUSD 401 (Tier 1) – $153,627.90   
Elmwood Park CUSD 401 plans to…