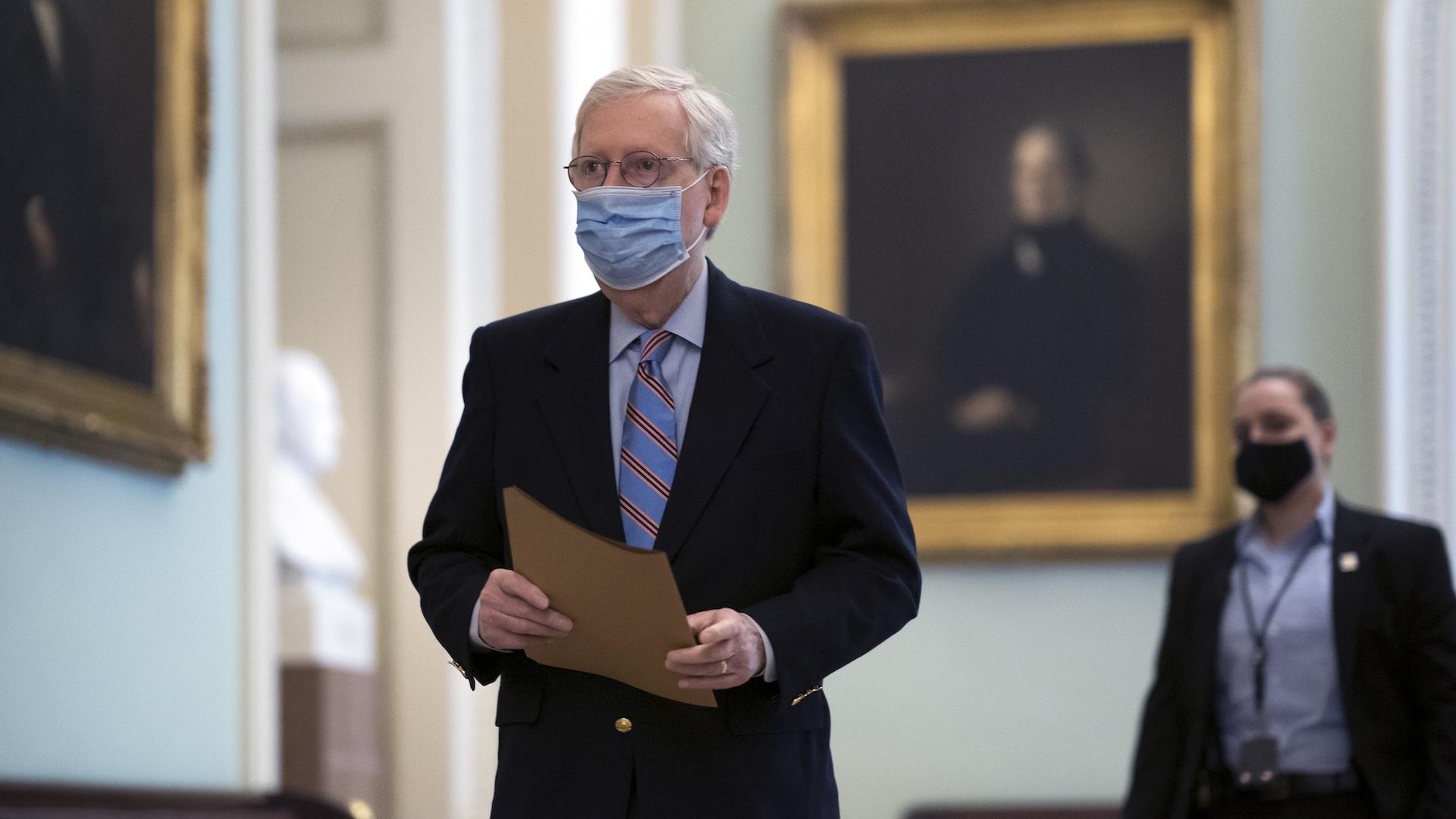 Senate Minority Leader Mitch McConnell, R-Ky., arrives at the Capitol in Washington, Friday, March 5, 2021, as the Senate steers toward a voting marathon on the .9 trillion COVID-19 relief bill that's expected to end with the chamber's approval of the measure. (AP Photo/J. Scott Applewhite)

WASHINGTON (AP) — Democrats agreed Friday to pare back emergency jobless benefits but extend them for an extra month, bidding to solidify support as the Senate approached a voting marathon on a $1.9 trillion COVID-19 relief bill.
The deal came as the chamber worked toward approving a final version of the massive package, probably over the weekend, of President Joe Biden's top legislative priority. That would give the House time to approve the legislation and whisk it to Biden for his signature.
First, the Senate was preparing to vote on a mountain of amendments, mostly by GOP opponents. Virtually all are destined to fail but are designed to force Democrats to take politically awkward votes.
Among them, though, was a Democratic plan that was expected to pass that would trim the House bill's $400 weekly emergency unemployment benefits.
Under the compromise, those payments — payable on top of regular state benefits — would be reduced to $300, but run an extra month through September. Taxes also would be reduced on unemployment benefits. A Senate Democratic aide provided details of the deal on condition of anonymity to describe private talks.
Biden and Senate leaders had agreed Wednesday to retain the House bill's higher $400 version. The reduction to $300 seemed to reflect a need to secure support for the overall bill, particularly from moderate Democrats.
Republicans are attacking the bill as a liberal spend-fest that ignores that growing numbers of vaccinations and signs of a stirring economy suggest that the twin crises are easing.
"Our country is already set for a roaring recovery," said Senate Minority Leader Mitch McConnell, R-Ky., in part citing an unexpectedly…