R&B and gospel great Mavis Staples headlines this Saturday at Navy Pier's free Chicago Live! festival, featuring 80-plus theater, dance and music performances across three stages.
But she also figures prominently in a free pier exhibit that's finishing its run with a bang this weekend.
---
What's happening: "The State of Sound: A World of Music From Illinois," which condenses a show that ran at Abraham Lincoln Presidential Library and Museum in Springfield during the pandemic, will wrap up with special events that Chicago music lovers won't want to miss.
"State of Sound" at Navy Pier runs through this weekend. Photo: Monica Eng/Axios
The exhibit presents histories, audio, pictures and artifacts of Illinois rock, R&B, blues, hip-hop, house, polka, punk, folk and more.
There's even a section devoted to Chicago Fest.
Artifacts include Eddie Blazonczyk's Grammy, a Mahalia Jackson performance contract, Jeff Tweedy's hat, John Prine's stage knickknacks and original handwritten lyrics by Willie Dixon.
Closing events: On Saturday, rock photographer Paul Natkin, whose stunning music photos illustrate the show, will sign his book "The Moment of Truth."
At 4:30pm, the Grammy-winning Soul Children of Chicago will lead a massive pier singalong (lyrics provided) of Chicago soul-pop ballad "O-o-h Child" in a moment that's already making Monica tear up.
It'll be broadcast live on the Lincoln Museum Facebook page.
If you can't go: Listen to the "The State of Sound" podcast with artists, historians and the show's writer, Dave Hoekstra.
Some artifacts and histories will be featured permanently on a Lincoln Museum website to launch next month.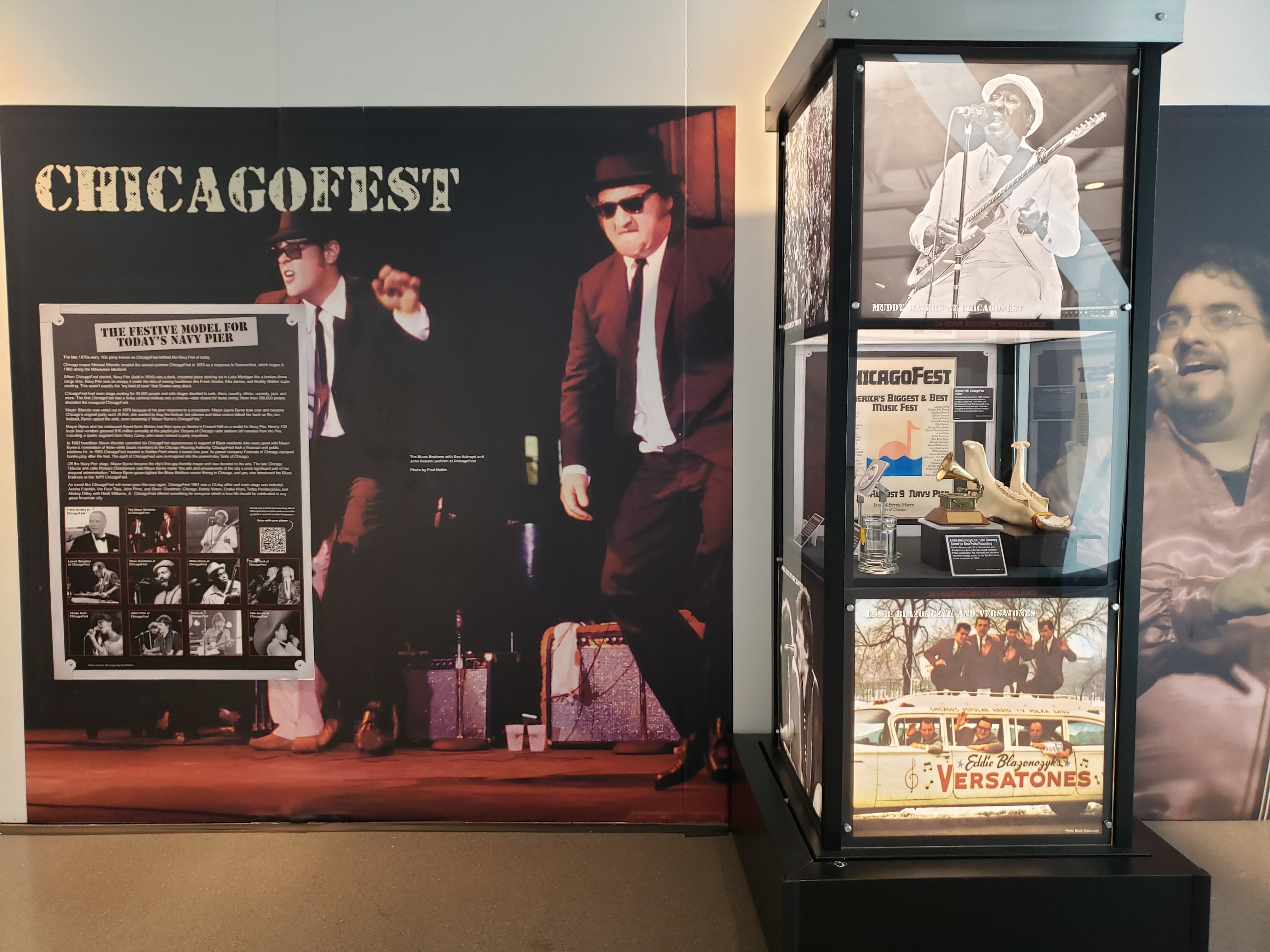 "State of Sound" at Navy Pier features an original Chicago Fest poster with the mind-blowing lineup from 1983 that included Henny Youngman, Cheap Trick, Aretha Franklin, Lionel Hampton and Air Supply. Photo: Monica Eng/Axios