There's a reason it's almost too easy to score a mouthwatering burger just about anywhere in Denver.
Details: The Mile High City actually lays claim to creating the cheeseburger — and even sports a shrine on Speer Boulevard to prove it.
---
Louis Ballast, the owner of what was once the Humpty-Dumpty Barrel Drive-In, trademarked the term in 1935, a decade after the first "cheese hamburger" is believed to have been cooked up.
Driving the news: To celebrate this greasy go-to, we're sharing some of the biggest, baddest, most "what the f#@%?!" burgers to bite into across the city.
Taguara 58 — Picanha Burger ($14.50)
Behold this meaty mammoth. Photo: Courtesy of Taguara 58
This food truck slings a variety of Venezuelan dishes, including the absolutely-epic picanha burger. The behemoth boasts smoked picanha slices — a cut of beef taken from the top of the rump — along with fries, bacon, cheese, and a few other fixings.
Pro tip: Get it on Hawaiian bread to balance the smoky notes with some sweetness.
La Fillette Bakery — Smash Burger ($16)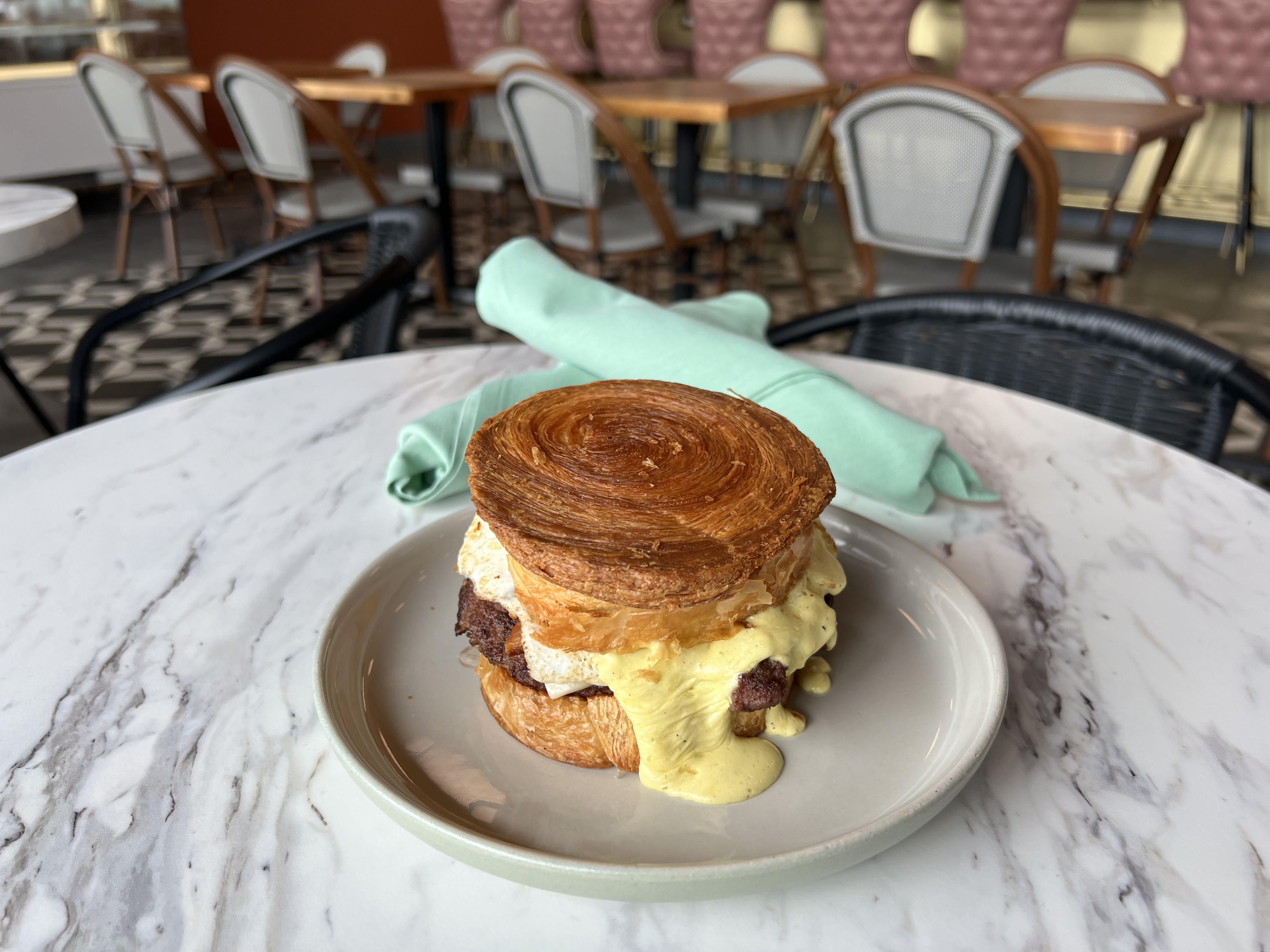 Who says you can't eat a burger for breakfast? Photo: Courtesy of La Fillette Bakery
Two words: Croissant bun. This ridiculously-photogenic burger offered at La Fillette's new full-service brunch spot comes with two smashed patties, plenty of housemade sauce and a croissant bun described by Westword as a "hypnotizing swirl of buttery, flaky layers." Yum.
Hamburguesas Don Jesús — Gigante Burger ($27)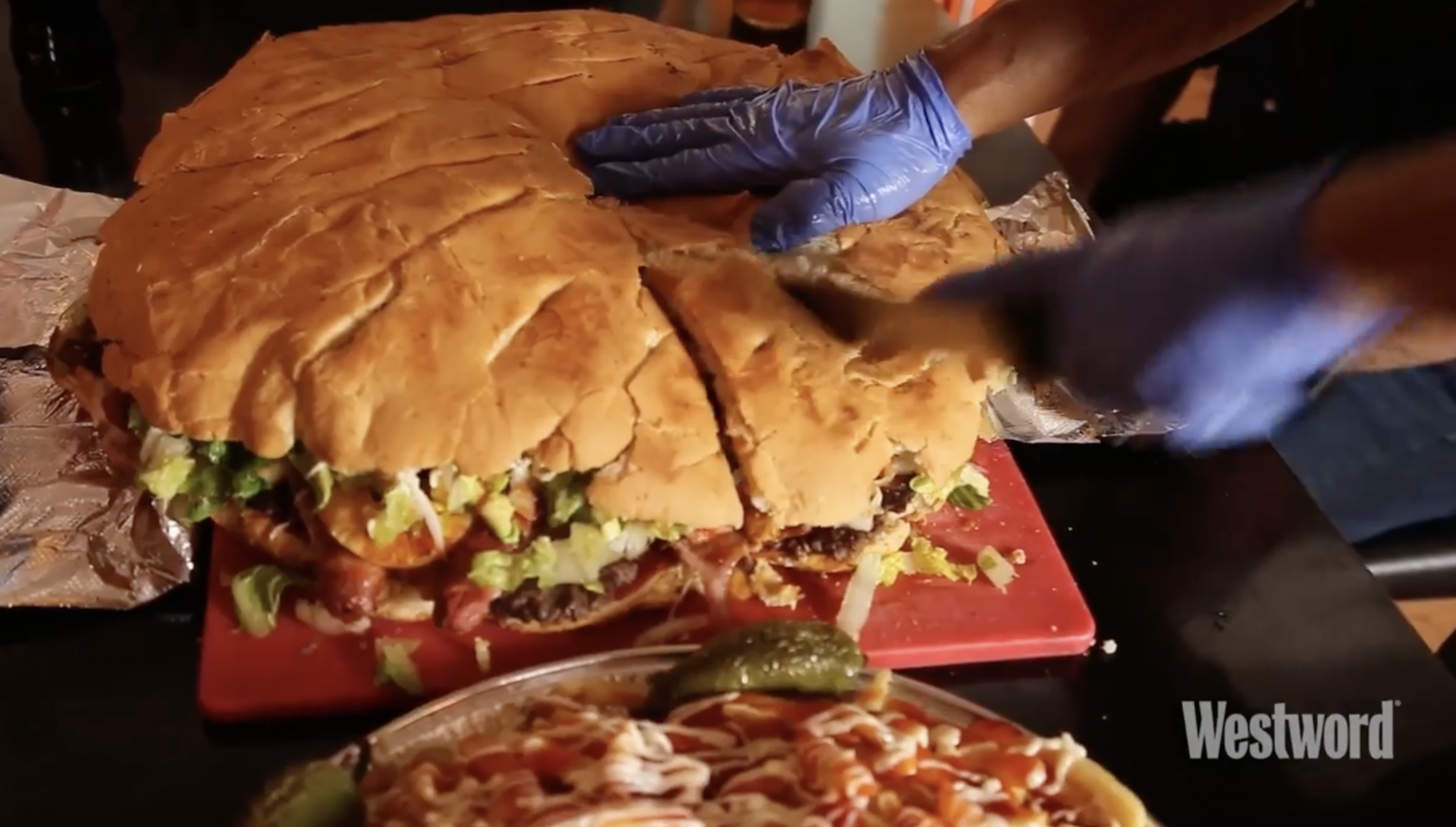 You're going to want to bring in some backup for this one. Screenshot: Westword's Facebook
If there's a bigger burger in Denver, we don't believe it. This gargantuan creation is filled with — get ready for it — four beef patties, four slabs of ham, four cheese slices, a bacon-wrapped hot dog, bologna, pineapples, avocado, fries and more.
Be smart: For those feeling a little less hungry, this joint — which has locations in Denver and Arvada — serves several smaller, but still-interesting options, including a torta burger.
The Cherry Cricket — 983 Big Cheesy ($16.50)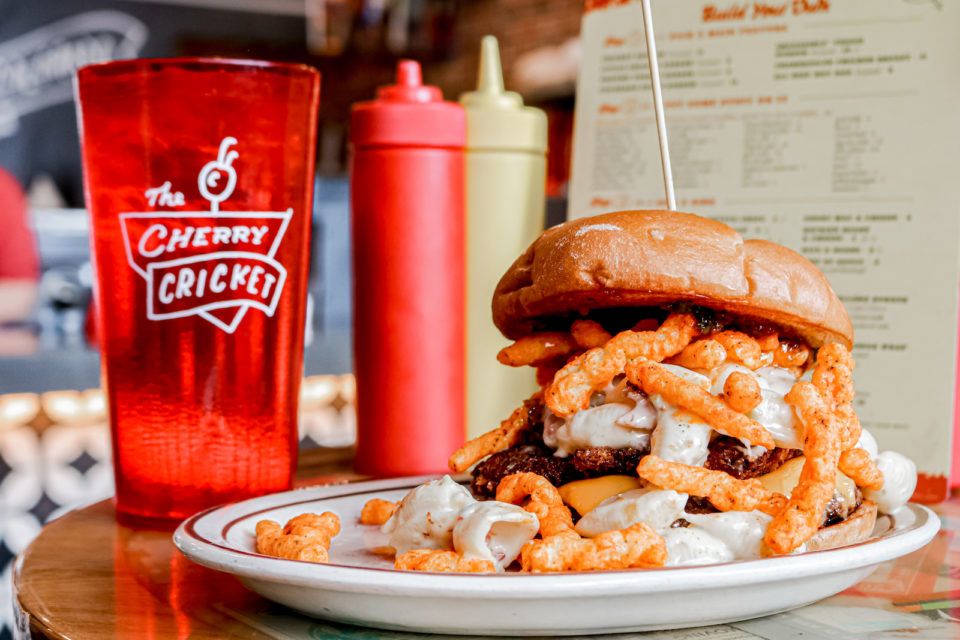 Cheetos make everything better. Photo: Courtesy of The Cherry Cricket
Cheese lovers, rejoice — this one's for you. This ooey-gooey, yet crispy-crunchy concoction combines two patties with cheddar jalapeno Cheetos, mac and cheese, American cheese, bacon jalapeno jam and a crispy panko-crusted poblano pepper.
BFD: This bad boy won 1st place for People's Choice at the Denver Burger Battle last year, so you know it's good.
Gaia Masala & Burger — Beef Tikka Masala Burger ($13.99)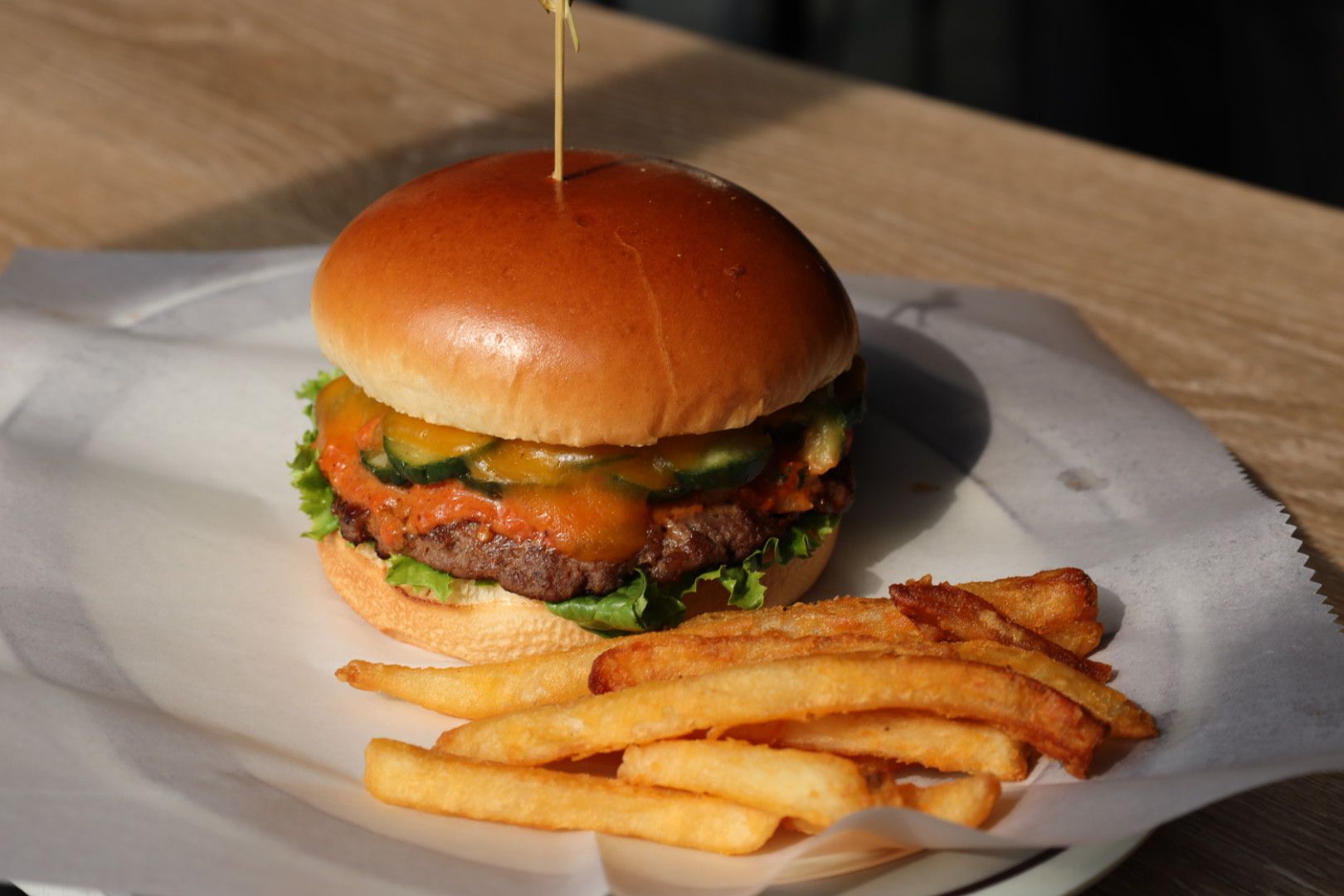 We won't judge if you order two. Photo: Courtesy of Rose/Gaia Masala & Burger
This fast-casual, family-run restaurant fuses rich Indian flavors into its American-inspired menu, marrying a buttery tikka masala sauce with cheddar cheese, mint, diced red onion and cucumber. The homemade tzatziki served alongside the actually-really-great fries goes well with the burger, too.
Of note: Gaia's OG location is in Boulder, but the owners recently opened a second spot in Denver's Governor's Park neighborhood.
A5 Steakhouse — A5 Burger ($20)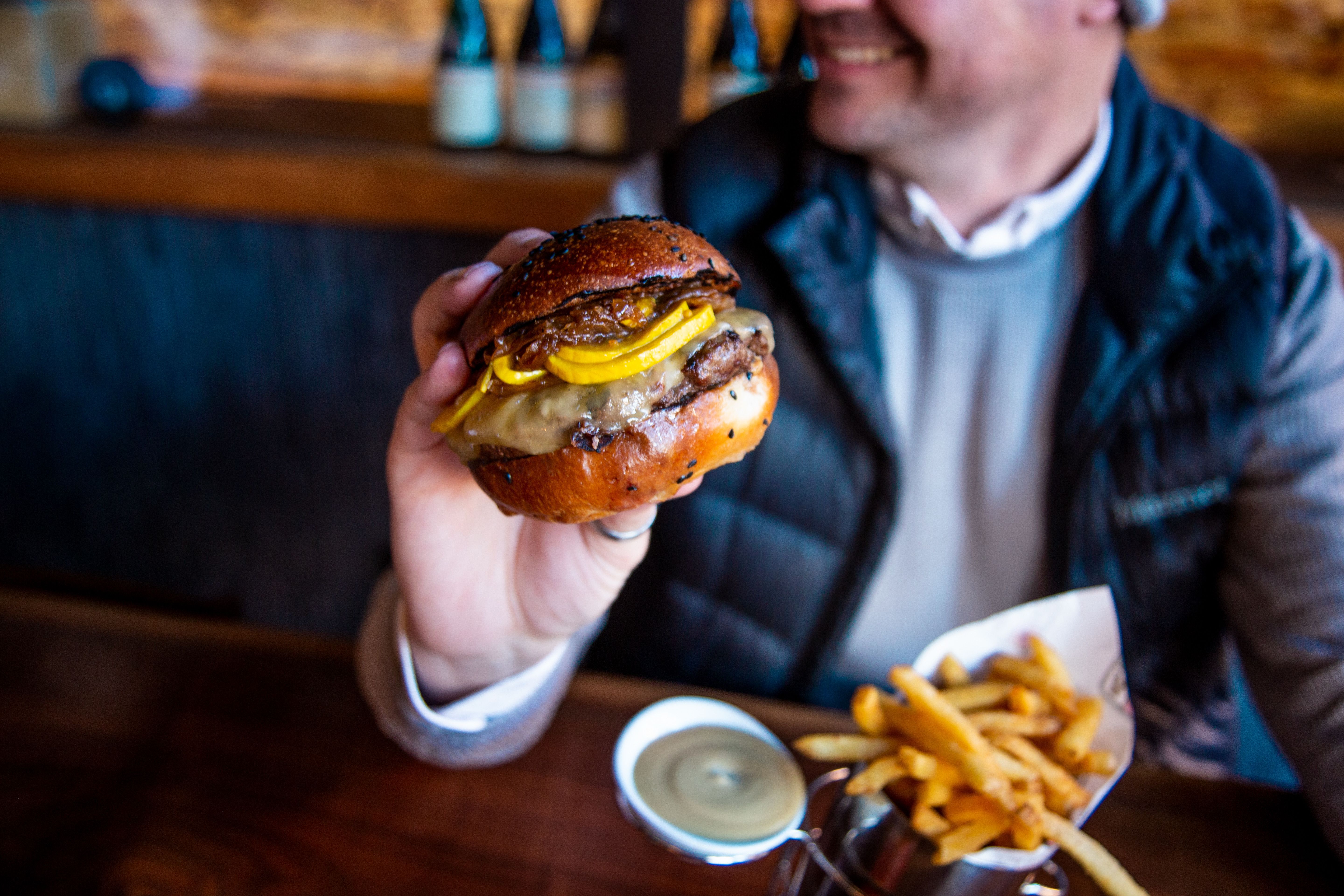 You'll need a napkin for this sinful, saucy number. Photo: Courtesy of A5 Steakhouse
This ultra-saucy burger takes it up a notch with a 6-ounce cut of wagyu beef topped with lots of butterkasse cheese, griddled onions and zucchini pickles.
Pro top: Pair it with the Kennebec fries, which come double-blanched and served with an umami aioli.
Carm and Gia Metropolitan — Giddy-up Cowboy ($22)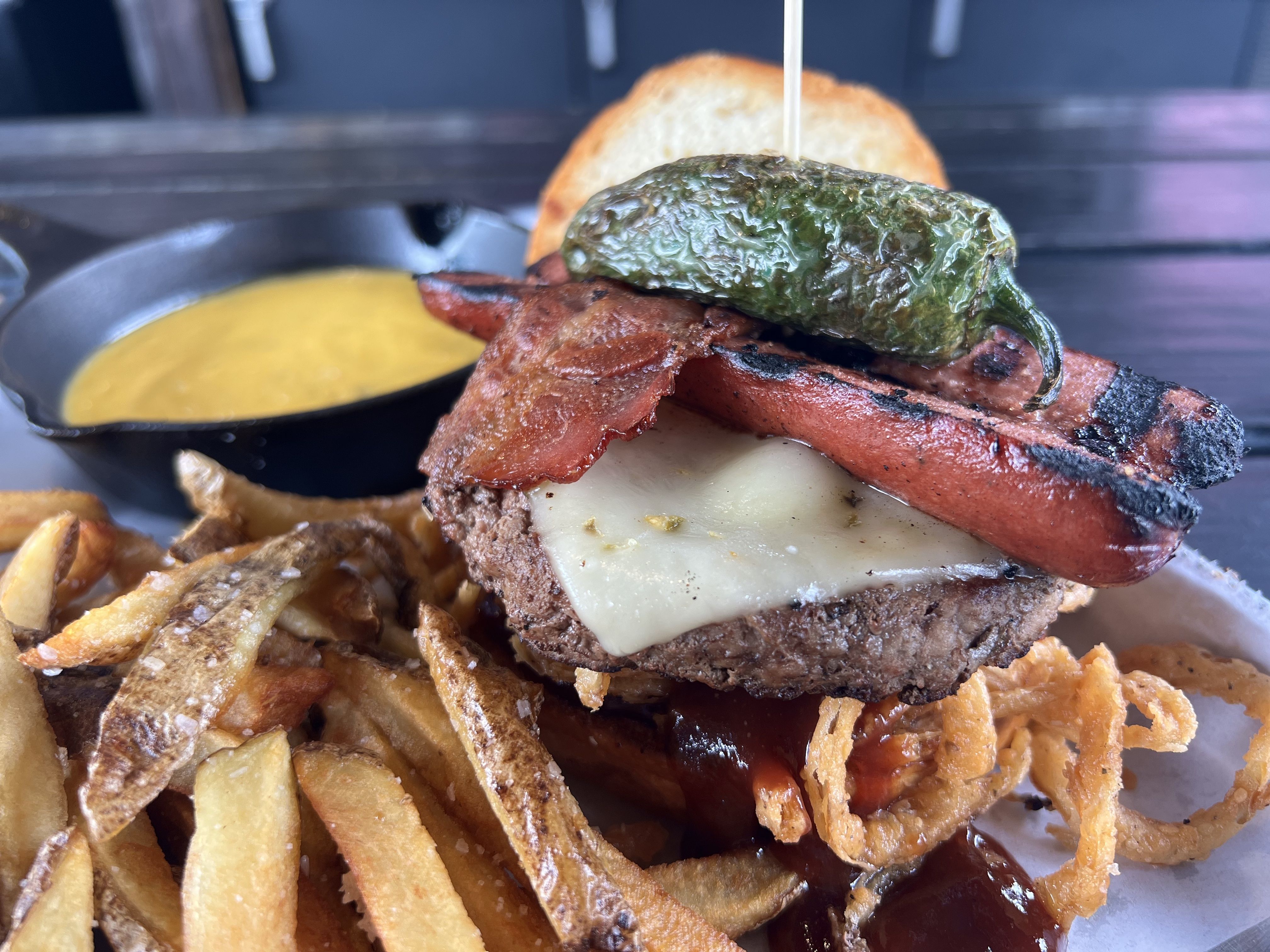 Saddle up — this one's not for the weak. Photo: Courtesy of Mini Maes
This mid-century joint in Aurora specializes in unique fast food creations, including this wild concoction with a char-grilled patty, Polish sausage, blanched jalapeno pepper, bacon, fried onions, BBQ sauce, pepper jack cheese and nacho cheese.
What wild Denver burgers did we miss ? Let us know at denver@axios.com.