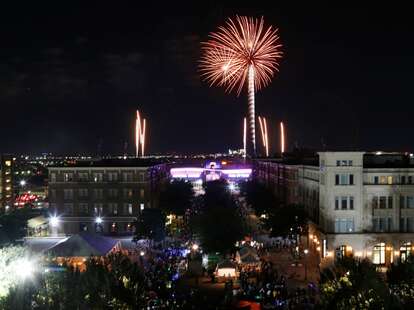 The time of year is upon us when the lyrics to America's most patriotic songs come to vivid life. From broad stripes, bright stars, and tiny bombs bursting in air to many-a-rocket's red glare, it's not just one Party in the U.S.A., but several throughout North Texas. We've already had a few fireworks displays to get us into the spirit this past weekend, but the bulk of the Independence Day celebrations take place this upcoming long weekend. So whether you're in Dallas, Fort Worth, or one of our many suburbs, you're close to more than your fair share of exploding nighttime light shows. Or head to the shores of White Rock Lake for one of our favorite spots to view multiple shows in every direction. Read on for 14 thrilling ways to celebrate America with red, white, and blue to spare.
Saturday, July 2
Klyde Warren Park
Show up early and grab a section of lawn as your home base then settle in for three hours of music, various vendors, and food trucks before looking skyward for the sparkly grand finale.
Cost: The event is free to attend.
Saturday, July 2
The Colony
Celebrate the 25th annual Liberty by the Lake Festival with a day's worth of festivities, starting with a 5K/10K/1M walk/run and patriotic parade. It culminated with an evening of food vendors, watermelon eating contest, concert from beloved disco cover band Le Freak, and choreographed fireworks display high in the sky above The Colony Five Star Complex.
Cost: All events are free to attend.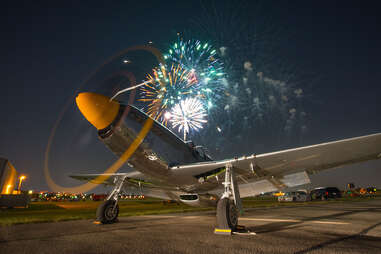 Addison Kaboom Town!
Sunday, July 3
Addison
Tickets for our region's biggest fireworks event sold out quickly once again this year, but you can purchase a hotel package that guarantees admission for up to six people in your party and you won't have to worry about driving home in all that traffic. You can also livestream the fireworks from the comfort of home.
Cost: Several Addison hotels are offering special rates, starting at $99 (six tickets to Kaboom Town! included).
Sunday, July 3
Carrollton